Contact Us
Contact us form
Live chat
Urth carry goods have been designed for all modern creators' needs. The outer shell of the products is made from durable weatherproof recycled nylon to keep belongings safe. The range enables the wearer to customise their set-up however they choose. Adjustable partitions, multiple access points, spacious capacity, and padded walls mean versatility and easy organisation. All Urth carry goods are made from 70% recycled materials, diverting resources from landfill without sacrificing quality. Because durability is key to sustainability, the products also feature aluminium hardware and the world's most trusted YKK zips. And the five trees planted per product means our products are carbon positive. Read more Read less
Urth carry goods have been designed for all modern creators' needs. The ... Read more Read less
Urth carry goods have been designed for all modern creators' needs. The outer shell of the products is made from durable weatherproof recycled nylon to keep belongings safe. The range enables the wearer to customise their set-up however they choose. Adjustable partitions, multiple access points, spacious capacity, and padded walls mean versatility ... Read more Read less
Is it safe to carry a camera in a backpack?
Yes, when using our Urth Camera Inserts built to protect and house your DSLR and lenses, it is safe to carry a camera in an Urth Backpack. Carrying cameras loose in a backpack where other items can bump up against it is not recommended.
How do you store a camera in a carry bag?
The most secure way to store a camera in any carry bag is within a purpose-built padded and weatherproof camera insert, like the Urth Arkose or Norite Insert.
How do you turn a backpack into a camera bag?
Urth backpacks transform into a camera bag when used with Urth Camera Inserts. We have two sizes: the 20L Arkose Insert and the 24L Norite Insert.
Your Cart (0)
Your cart is currently empty.
You might also like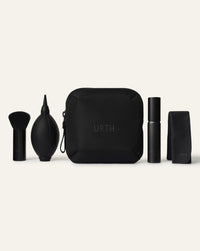 Glass Cleaning Kit
Our consciously designed Glass Cleaning Kit gives you all the