Contact Us
Contact us form
Live chat
Urth laptop sleeves give your laptop precious protection when you're on the go. The outer shell of the sleeves is made from durable weatherproof recycled nylon to keep your laptop safe. Padded corners protect against knocks, and plush lining helps protect against dust and scratches. Urth's sustainable laptop sleeves are made from 70% recycled materials, diverting resources from landfill without sacrificing quality. Because durability is key to sustainability, the sleeves also feature the world's most trusted YKK zips. And the five trees planted per product means our carry bag range is carbon positive. Read more Read less
Urth laptop sleeves give your laptop precious protection when you're on the ... Read more Read less
Urth laptop sleeves give your laptop precious protection when you're on the go. The outer shell of the sleeves is made from durable weatherproof recycled nylon to keep your laptop safe. Padded corners protect against knocks, and plush lining helps protect against dust and scratches. Urth's sustainable laptop sleeves are made from ... Read more Read less
What size laptop sleeves do we stock?
Our laptop sleeves come in two standard sizes: 13-14" and 15/16"
Are our laptop sleeves water resistant?
Yes. our laptop sleeves are made from weatherproof recycled nylon, however we recommend avoiding excess water or submerging as water can enter through zip enclosures.
Do our sleeves protect against shock & impact damage?
Lightly padded and weatherproof with durable recycled nylon, our laptop sleeves are designed to protect against day-to-day wear and tear and lessen or completely avoid visibile damage, depending on the level of impact.
What materials are our laptop sleeves made from?
Recycled weatherproof nylon and aluminium YKK zips.
Can I fit other items into my laptop sleeve?
Urth laptop sleeves are purpose-built for laptops only, however, very thin objects like mail, or folded documents can be protected in the laptop sleeve as well.
Your Cart (0)
Your cart is currently empty.
You might also like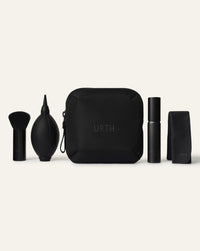 Glass Cleaning Kit
Our consciously designed Glass Cleaning Kit gives you all the