Contact Us
Contact us form
Live chat
Urth organizers help you keep your small items such as camera lens filters tidy. The outer shell of the organizers is made from durable weatherproof recycled nylon to keep belongings safe. Multiple storage zones and  spacious capacity mean versatility and easy organization. Urth's sustainable organizers are made from 70% recycled materials, diverting resources from landfill without sacrificing quality. Because durability is key to sustainability, the tech organizers also feature the world's most trusted YKK zips. And the five trees planted per product means our carry bag range is carbon positive. Read more Read less
Urth organizers help you keep your small items such as camera lens ... Read more Read less
Urth organizers help you keep your small items such as camera lens filters tidy. The outer shell of the organizers is made from durable weatherproof recycled nylon to keep belongings safe. Multiple storage zones and  spacious capacity mean versatility and easy organization. Urth's sustainable organizers are made from 70% recycled materials, diverting ... Read more Read less
What is a tech organizer?
A tech organizer is a bag or pouch designed to neatly and efficiently store and carry various electronic gadgets and accessories. It typically includes compartments, pockets, and straps to organize items such as cables, chargers, adapters, headphones and other tech-related essentials.
How protective are Urth's tech organizers?
Urth's Tech Organiser is designed with weatherproof nylon, protecting from rain and lightly padded to minimise the risk of damage from bumps and scratches.
Are the tech organizers waterproof?
While not waterproof, the Urth Zeolite Tech Organiser is made from water-resistant recycled nylon.
Your Cart (0)
Your cart is currently empty.
You might also like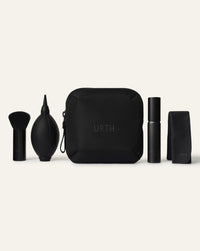 Glass Cleaning Kit
Our consciously designed Glass Cleaning Kit gives you all the