Contact Us
Contact us form
Live chat
Urth camera straps are made from recycled materials, diverting resources from landfill. They come with two sets of our secure pebble clips, custom designed for changing cameras on the go. 5 trees are planted for every product purchased. Read more Read less
Urth camera straps are made from recycled materials, diverting resources from landfill. ... Read more Read less
Urth camera straps are made from recycled materials, diverting resources from landfill. They come with two sets of our secure pebble clips, custom designed for changing cameras on the go. 5 trees are planted for every product purchased. Read more Read less
Are our camera straps made with real leather?
Urth Mantle Camera Straps are made from genuine recycled leather.
What types of materials are our camera straps made from?
Our Core Camera Straps are made from recycled nylon, aluminium and durable dyneema rope.
Are our camera straps easy to attach?
Urth Camera Straps are designed to quickly and easily switch from one camera to the next with our pebble clip fasteners.
Are our camera straps adjustable?
Urth camera straps have adjustable buckles that allow you to change length of the straps to suit your height and preference.
What size cameras can our straps support?
Our camera straps support cameras up to 80kg of weight.
Your Cart (0)
Your cart is currently empty.
You might also like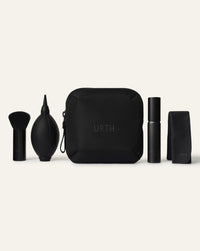 Glass Cleaning Kit
Our consciously designed Glass Cleaning Kit gives you all the