Contact Us
Contact us form
Live chat
Urth Ethereal Black Mist Filters disperse bright and close-up light to soften contrast and replicate the qualities of film photography. Both filters in our Plus+ range feature 20 layers of nano-coating for easier cleaning and better protection against water, oil and scratches. Achieve an ethereal, subtle glow effect with your photographs and smooth details and imperfections. Ethereal Filters also provide stronger light distribution to blur fine details and offer more creative control and possibilities that can't be replicated in post production. These layers provide a higher maximum light transmission and a more consistent transmission curve for sharper images, finer colours and greater depth. We use the world's best glass made with world leading German SCHOTT B270 to construct our filters, allowing us to offer a lifetime warranty due to the high quality, durable material. The ultra-slim construction of the rim avoids vignetting and the use of high quality magnalium means it's guaranteed for life. Read more Read less
Urth Ethereal Black Mist Filters disperse bright and close-up light to soften contrast and ... Read more Read less
Urth Ethereal Black Mist Filters disperse bright and close-up light to soften contrast and replicate the qualities of film photography. Both filters in our Plus+ range feature 20 layers of nano-coating for easier cleaning and better protection against water, oil and scratches. Achieve an ethereal, subtle glow effect with your photographs and smooth details ... Read more Read less
What are Ethereal Black Mist Filters used for in photography?
Ethereal Black Mist Filters are used to create dreamy, soft, and atmospheric effects. They can add a hazy glow, reduce contrast, and impart a surreal quality to images.
Can Ethereal Black Mist Filters be used in combination with other filters?
Yes, Ethereal Black Mist Filters can be combined with other filters to achieve unique and customized effects. Experimenting with combinations, such as using a polarizer alongside an ethereal filter, allows for creative control over the final look of the photograph.
Is it possible to adjust the intensity of the Ethereal Black Mist effect?
The intensity of the Ethereal Black Mist effect can be adjusted to some extent by choosing different filter strengths, or stacking multiple filters. Additionally, controlling factors like aperture and exposure during shooting or adjusting settings in post-processing can influence the overall intensity of the ethereal look.
Your Cart (0)
Your cart is currently empty.
You might also like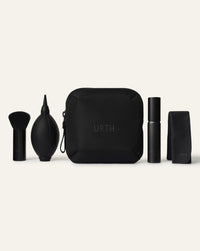 Glass Cleaning Kit
Our consciously designed Glass Cleaning Kit gives you all the