Contact Us
Contact us form
Live chat
What is a variable ND filter for?
A variable ND (Neutral Density) filter is used in photography and videography to control the amount of light entering the camera lens. It consists of two polarizing filters that can be rotated relative to each other, allowing the user to adjust the level of light reduction. Variable ND filters are particularly useful in situations where the lighting conditions change rapidly, such as when shooting outdoors in bright sunlight, as they provide a flexible and convenient way to control exposure without changing the aperture or shutter speed settings.
Can you use a polarizer and variable ND filter at the same time?
While it's technically possible to stack a polariser and a variable ND filter, it's generally not recommended. Both filters affect the polarization of light, and stacking them can lead to undesirable interactions, such as uneven polarization, color shifts, and reduced image quality. Instead, if you need the effects of both filters, consider using a combination filter that integrates both polarizing and ND properties in a single unit for more consistent results.
What is the difference between ND2, ND4, ND8 filters?
ND2 reduces light by one stop, ND4 by two stops and ND8 by three stops, providing varying levels of light reduction for controlling exposure in different lighting conditions.
What is the best ND filter for a beginner?
For a beginner, an ND4 or ND8 filter is a good starting point, offering a moderate to strong light reduction that's versatile for various shooting conditions without being too extreme.
Your Cart (0)
Your cart is currently empty.
You might also like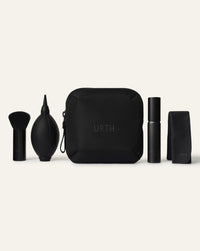 Glass Cleaning Kit
Our consciously designed Glass Cleaning Kit gives you all the